Since the beginning of this COVID-19 pandemic, many companies have begun shifting from typical office work setting to remote working setup. This gives them the opportunity to comply with the changing health and safety mandates while actively fulfilling the work duties and schedules. However, this sounds tricky especially for those who are unused to this work setting. Working from home requires enough preparation. To establish a suitable and best coworking space, you must secure a stable internet access, functional PC or laptop, uninterrupted power supply, and of course a peaceful room away from distractions.
But if your home can't provide you these basic elements, you can always consider coworking spaces. These spaces are the perfect hubs for professionals like you. And yes, you need not travel far, for we're here to give you the best coworking space in San Pedro, Laguna.
Why Choose the Best Coworking Space
Ever dreamed of working in an innovative office with state-of-the-art interiors, fast Wi-Fi, productive environment, and unlimited coffee? If you say yes, then coworking spaces will be your next wonderland! Coworking space is basically a shared office space for freelancers, startup companies, or small teams. It usually provides personal desks, meeting rooms, small office rooms, and other office amenities that one would need.
Another advantage of working in shared offices is that they allow collaboration and engagement. Since you're situated in a room full of like-minded people, it's easier for you to build networks. This is helpful especially for startups and entrepreneurs who aim to promote their brands. Aside from that, you'll be able to save a lot of your budget since it's relatively cheaper than renting a whole office.
Learn the key elements of a good shared office to help you find the best coworking space for your needs.
Elements of a Good Coworking Space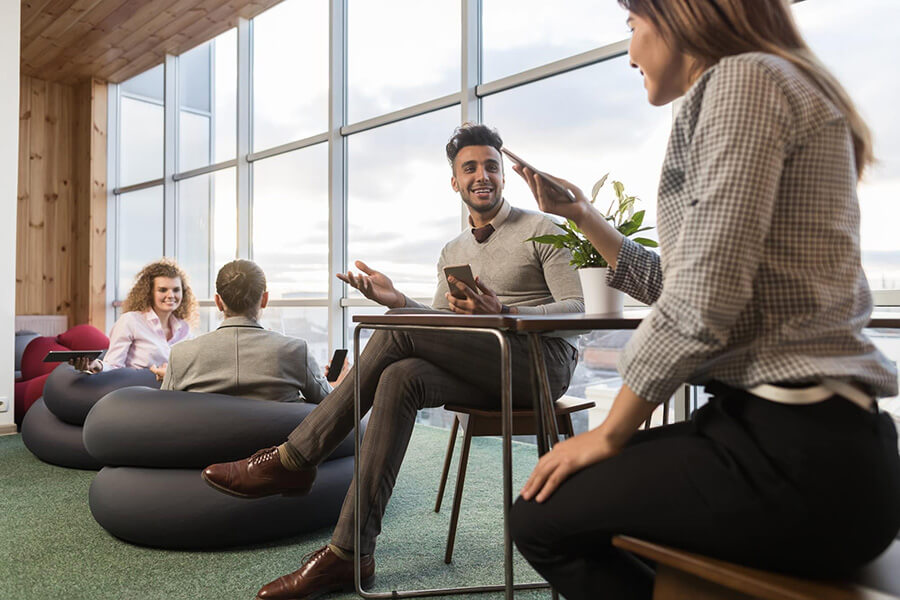 Before you try this coworking trend, you must first know the basics of a good shared workspace. So, we created this list to help you find the best coworking space for your office needs.
1. High-Speed (and Stable) Internet
Most of the clients of shared spaces are digital nomads whose bulk of work happens in the digital arena. So, aside from the facilities, high-speed Wi-Fi connection is one of the main factors that they consider. With today's digital shift, the demand for fast Wi-Fi connection is ever growing. Check the internet connections first to ensure that the coworking space can provide you uninterrupted Wi-Fi speed that you'll need.
2. Varied Seating Arrangements
Unlike traditional offices, shared spaces house various individuals or teams. But even though they technically share a single floor or room, it is crucial to give each one enough amount of privacy. Having seat plan options is one of the best ways to achieve this. Check if the coworking space has enough desks or rooms for you and your team.
3. Conducive Working Environment
Well-lit and air-conditioned rooms, a peaceful area with ambient music, access to office supplies and printers, comfy seats, and clean desks. Who doesn't want this kind of workspace? Unlike working at home or in your usual office, the best coworking space out there can give you favorable office setup that would definitely fuel your productivity. Don't miss your chance to enjoy this quality services for a budget-friendly fee.
4. Stable Security System
Security is one factor that you must consider in choosing the best shared office for you. Check if the area has installed CCTV cameras for added safety. It's also a plus if they have attendants or guards to check those who enter the area. This is crucial for you and everyone else's safety.
5. Unlimited Coffee Partnered with Snacks
The best coworking space also knows the importance of working properly with a full stomach. So, having a café near or inside the area is totally a great idea. Work at your own peace with coffee or tea on your side to boost your energy for the day. Also, the bittersweet aroma of coffee is enough to wake up your mind throughout your working hours.
The Newest ad Best Coworking Space in the South
No need to travel to the metro for we made the best coworking space closer to you, South peeps! Located in the busy streets of Maharlika Drive, United Subdivision in San Pedro, Laguna is the newest coworking space in town. Daily Grind Coffee Shop and Coworking offers dedicated desk and meeting rooms for you. Enjoy fuss-free working with our high-speed internet and ambient space. You can also sip a cup of coffee while doing your tasks from our Daily Grind Coffee Shop.
Aside from the basic services mentioned above, you'll also feel safe because of our strict compliance with health and safety measures to prevent the spread of COVID-19. We accept a limited number of clients in a day to maintain proper social distancing. So, before you head out, it's best to reserve your spot first. View our rates or call our team to know more. Contact us or send us a message via Facebook for booking and queries.